GENERAL MEMBERSHIP MEETING
Please join us for our General Membership Meeting on Wednesday, October 22 at 7:00 pm, at the Richfield Township Hall!  Everyone is welcome!  The new 2015 HLA calendar will be available for purchase!
IMPORTANT WATER LEVEL INFORMATION
The water level right now is about 1 foot below the "official" winter water level at the Holloway Dam.  Some property owners may find that this "seems" a little more (or less) at their location.  Dave Onufry, (HLA's Water Level/Quality Chairman), reported at tonight's Board Meeting that he had made contact with the City of Flint Water Department Officials.  Dave was told that the water level should… remain at this level for approximately 1-1 1/2 more weeks, while the KWA waterline is installed at the tubes.  They will then begin to bring the water level slowly back up to the official winter level.  So if you normally remove your docks and bring in your boat hoists in November, you will want to do it this year as well.  Remember, failure to bring in your hoist(s) and/or remove your docks that are in/close to the water's edge could result in significant damage (to them) if there is an ice flow shift during the winter or early spring.  As reported by Julie Brandon on Facebook.
SHOW US YOUR FINDS!
Since the water level is down lower than normal, many unusual things are being revealed!  If you see something out of the ordinary, send us a picture and we will share it with everyone on the website (send your pics to hefterfamily@yahoo.com)!  Our first contribution is from Amy and Kelly Bye.  They found a set of wine glasses and a huge clam near the Stanley Road fishing lot.  See the "Eyes on the Lake" page for more submissions!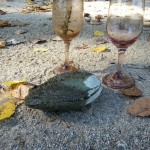 NEW WEB PAGE!
Holloway Lake Association members who have lake-related items they wish to buy/sell/trade, can have their ads posted on the new "CLASSIFIEDS" page.  Please check out our new page!  We already have several items posted!
The Holloway Lake Association Protects your Reservoir
Through regularly scheduled meetings and newsletters, the Holloway Lake Association keeps concerned citizens informed and in touch.  Please support these efforts by becoming a member of the Holloway Lake Association. Together we can make a difference!
The Holloway Reservoir needs your help to remain Genesee County's precious recreational area.
HELP US PRESERVE HOLLOWAY!  JOIN THE HOLLOWAY LAKE ASSOCIATION!
Issues we are working on:

The Water – predictable levels and good quality
The Regulatory Agencies – boating safety
The Environment – industrial and other pollution
Shoreline Erosion
Parkland Preservation
Richfield Landfill issues
Boating, Fishing, Swimming, Camping, Picnicing or Hiking along the reservoir
Holloway Today: Challenges and Changes
Shoreline Erosion: Several campsites at Wolverine Campground are falling into the lake. Picturesque Goose Neck Point becomes narrower each year. Trees are tipped over into the water in many areas. The Reservoir becomes increasingly wider but more shallow. What will it look like in 50 years?
Water Levels: There are many demands on the waters of Holloway. The City of Flint requires constant flow for sanitation plants, and is considering using the river as its future source for drinking water. Down river recreational users call for increased summertime flow. In the dry summer months, low water levels on Holloway harm recreation, wildlife and the ecosystem of the water.
Environmental Concerns: The potential impact of The Richfield Landfill on Holloway Reservoir and its surroundings demands activism by the public to insure a safe environment and to maintain the natural beauty of the area.
The increase in the numbers of seagulls requires efforts to control them in order to prevent the damage they cause to property and their contamination of the water.
Regulatory Intrusion: The Holloway Reservoir is heavily regulated by Government, and citizen activism is required to balance the competing interests of the environmental, industrial and recreational communities.
We have been given permission by Nate Harasim to use his song "Holloway Cruise" on our website.  Nate was just a young teenager when he wrote this song while sitting on his dock in Zone 4.  It is simply beautiful!  Make sure you have your speakers on!
Click below to hear Nate's song
Audio clip: Adobe Flash Player (version 9 or above) is required to play this audio clip. Download the latest version here. You also need to have JavaScript enabled in your browser.