LIGHTED BOAT PARADE PHOTOS
Photos taken during the lighted boat parade on September 5 are available on the Photo Gallery page. Take a look!
OFFICIAL NOTICE FROM COLUMBIAVILLE
Official notice: Beginning May 18th the Second Street will be closed for bridge replacement. The project is projected to last for approximately 4 months, hopefully there are no unforeseen issues or it could take longer. The detours will be marked by the contractors, starting next week.
Sorry for the inconvenience but we all know it is desperately needed. Any comments or questions please contact the village office 810-793-4411 or message the Village's Facebook page.
PICTURE OF THE WEEK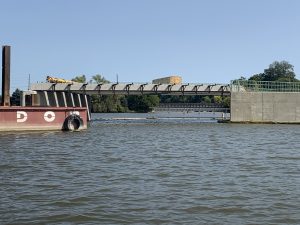 Photo by Pat Hefter

The Holloway Lake Association Protects Your Reservoir
Through regularly scheduled meetings and newsletters, the Holloway Lake Association keeps concerned citizens informed and in touch. Please support these efforts by becoming a member of the Holloway Lake Association. Together we can make a difference!
The Holloway Reservoir needs your help to remain Genesee County's precious recreational area.
HELP US PRESERVE HOLLOWAY! JOIN THE HOLLOWAY LAKE ASSOCIATION!
Issues we are working on:

The Water – predictable levels and good quality
The Regulatory Agencies – boating safety
The Environment – industrial and other pollution
Shoreline Erosion
Parkland Preservation
Richfield Landfill issues
Boating, Fishing, Swimming, Camping, Picnicking or Hiking
Holloway Today: Challenges and Changes
Shoreline Erosion: Shoreline erosion, which is greatly exacerbated by high speed boating, waves, and sandy soil, has been identified as a concern. Picturesque Goose Point becomes narrower each year. Trees have tipped over into the water in many areas. As a result, the Reservoir is becoming increasingly wider. What will it look like in 50 years?
Water Levels: There are many demands on the waters of Holloway. The City of Flint requires constant flow for sanitation plants. Down-river recreational users call for increased summertime flow. In the dry summer months, low water levels on Holloway harm recreation, wildlife and the ecosystem of the water.
Environmental Concerns: The potential impact of The Richfield Landfill on Holloway Reservoir and its surroundings demands activism by the public to insure a safe environment and to maintain the natural beauty of the area.
The increase in the numbers of seagulls requires efforts to control them in order to prevent the damage they cause to property and their contamination of the water.
Regulatory Intrusion: The Holloway Reservoir is heavily regulated by Government, and citizen activism is required to balance the competing interests of the environmental, industrial and recreational communities.
We have been given permission by Nate Harasim to use his song "Holloway Cruise" on our website. Nate was just a young teenager when he wrote this song while sitting on his dock in Zone 4. It is simply beautiful! Make sure you have your speakers on!
Click here to hear Nate's song