Committee Reports

2021 Walleye Tournament
The Eastern Michigan Sportsmen Association held the Holloway Regional Walleye Tournament on Sunday, May 16. There were 206 fish, total weight of 382.27 pounds (average weight 1.86 lbs) entered in the tournament. The largest fish weighed 5.66 lbs.
1st place – Matt Kirsammer/ Mike Wagner/Joe Dennis – 16.23 lbs
2nd place – Aaron Talaski/Craig Maurer/Bradie Talaski – 13.63 lbs
3rd place – Ben Redmond/Jake Trombley/Pete Schaffer – 12.47 lbs
Congratulations to the winners and to all those that entered.
Here is a link for the full results.
2017 FISH SURVEY
On September 28, 2017, the DNR conducted its annual fall juvenile walleye sampling on Holloway Reservoir. Per Joe Leonardi, "this was the second highest catch of young fish out of all years. Very good natural reproduction and seven inches is considered good growth for these young fish." Below is a table of the results from multiple years:
LATEST FROM THE DNR – SEPTEMBER 2016
Per Joe Leonardi:
On Tuesday evening, DNR conducted its annual fall juvenile walleye sampling on Holloway Reservoir (we have been doing this since 2011). Attached are the catch results and a final report will be sent later in January went age data is completed. We capture 193 walleye – mostly juveniles
At first glance. We continue to see high abundance of young of year walleye (fish born in April 2016 typically in the 5-8 inch size range). We continue to see what I believe is an abundance of yearling walleye (fish born in 2015 typically in the 10-12 inch size range). We continually see a low abundance of adult walleye (fish > 15 inches and I am a bit puzzled. It could be that our gear is not sampling them effectively or it could be an indication of a mortality either natural or by angler harvest. However, given the abundance of young of year, there appears to be sufficient adults to spawn and produce these progeny on an annual basis. Gizzard shad were in very high abundance this year.
Again I will send my final analysis once all the data has been compiled. Hopefully, once I look at the both the spring and summer surveys we conducted this year, along with this fall survey, it will provide some better insight.

UPDATE FROM JOE LEONARDI, DNR FISHERIES – MAY 2016
On Thursday, DNR Fisheries completed the summer fisheries survey of Holloway Reservoir. FYI, attached is the total catch.
Of note, we captured 1,217 fish.
342 channel catfish averaging 16.8 inches
226 smallmouth bass averaging 11.2 inches (25 > 14 inches)
113 black crappie averaging 10.1 inches
53 walleye averaging 12.4 inches (9 > 15 inches a 3 fish at 26 inches)
44 bluegill averaging 7.9 inches
DNR Fisheries will return to Holloway Reservoir in August to conduct habitat sampling which includes oxygen and temperature profiles of the lake, water samples for measurements of productivity (nitrogen, phosphorus, chloroapyl-a)
We will return again in late September for annual electrofishing for juvenile walleye.
A full survey analysis of the year's sampling will not be available until winter. My quick take is that Holloway Reservoir continues to produce an excellent recreational fishery. Channel catfish remain abundant. Some excellent black crappie and smallmouth bass. Walleye continue to be an important component of the fishery and there are some big ones out there. Bluegill are not overly abundant but if you get into them, they are of excellent size. My personal observation is that the zebra mussel population has declined over the past 10 years. Round goby continue to show in high numbers.
Please feel free to share this information with others. Thanks.
Joe Leonardi, Fisheries Biologist
Southern Lake Huron Management Unit
Lapeer State Game Area
3116 Vernor Rd., Lapeer, MI 48446
PH 810-245-1250
Fax 810-245-1276
leonardij@michigan.gov
THREE DAY SURVEY ON HOLLOWAY
On March 21-23, 2016 , Joe Leonardi and assistant Chris from the DNR , along with HLA member Martin Hefter, did a three-day survey on Holloway. Per Joe:
The catch totals from our 3 day survey of Holloway Reservoir. Of note:
1,560 total fish
965 channel catfish averaging 14.7 inches
302 black crappie averaging 10.2 inches
132 walleye averaging 13.0 inches. 17% of the walleye were > 15 inches.
Also attached is a photo of Holloway Lake Association member Martin Hefter holding a 38" northern pike.
Feel free to share this information. This spring survey will compliment an upcoming May survey.


Awesome walleye catch on Holloway!
Caught by Martin Hefter on November 5, 2015
7 pounds, 29 inches
REPORT BY JIM KEY ON OCTOBER 7, 2014
Jim Key received the following email and chart as a result of his participation in this year's walleye indexing:
Jim,
Attached is the catch summary of our walleye indexing on Holloway Reservoir. Since 2011, we have been sampling the same 8 ten minute shocking locations.
In my career, I have never witnessed a level of natural reproduction that we saw last night. Walleye in the 5-6 size range would be a product of the 2014 spawn. This is truly an incredibly large year class and it will be interesting to see how they survive to next year. Let's hope the gizzard shad and round gobies provide enough food. I am not sure why we do not see more adults but they must be present to produce this many young.
We have a lot of age data to analyze and I will provide a completed report later this winter.
Thanks,
Joseph Leonardi (DNR)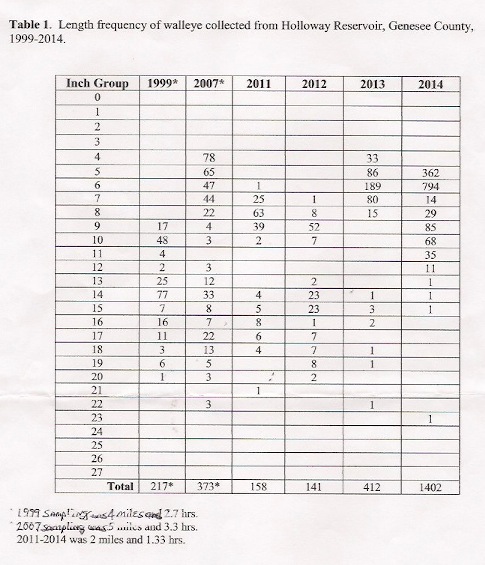 REPORT BY JIM KEY ON JUNE 3, 2014
The fishing has begun!!!! Started out with a few walleye and has progressed with limits of walleye and some catfish and nice sized Crappies. Yup, I'm a happy fisherman now!! The water has been just right to catch these Big guys. There is a new bait shop up next to where the 7 eleven used to be at the corner of M-15 and Mt. Morris , he has good prices on bait and also sells camping necessities. Helpful, friendly owners at M15 Bait and Tackle Shop; check it out. New fishing liscense fees have some upset about the fees. Lake Nepessing Fishing Club had a Bass tournament the last weekend of May and most of the guys I talked to said it was good for them. Have a great fishing season and be sure to take a kid fishing.
Jim Key
REPORT BY JIM KEY ON APRIL 16, 2014
Walleye season begins on April 26, 2014. Bass season begins on May 24, 2014. Fishing licenses expired on March 31, 2014, so it is time to get your new license! There has been a change in the fee structure this year:
As of March 1, 2014, the price and structure of fishing licenses have changed. The new structure creates a simpler, more fair and efficient license buying process. All fishing licenses are now "all species" licenses. There is no longer a restricted license type. A new $1 surcharge has been added to the combination hunt and fish licenses, resident annual, nonresident annual, and resident senior annual all-species fishing licenses, as noted with the asterisk*. Revenue generated from these funds will be used to educate the public on the benefits of hunting, fishing and trapping in Michigan, and the impact of these activities on the conservation, preservation and management of the state's natural resources in accordance with statute.
For more information on the new fee structure, visit www.eregulations.com/michigan/fishing/license-items-fees/
DNR CATCH SUMMARY
Joseph Leonardi of the DNR provided HLA with a summary of the walleye indexing on Holloway Reservoir. Beginning in 2011, the DNR decided to conduct annual night electrofishing on Holloway to monitor walleye. They have electrofished the same eight sites, for 10 minutes each, for the past few years.
Leonardi stated that in 2013, the DNR experienced one of the most abundant YOY (young of the year) catches to date. YOY are fish that were born this spring. In 2013, they captured 403 YOY fish compared to only 68 in 2012, and 106 in 2011.
In 2013, they captured only 9 adult walleye. In 2012, they captured 73 adults. In 2011, they captured 28 adults. Leonardi stated that he is not sure what this exactly means. But what is clearly evident is that natural reproduction of walleye in Holloway occurs at a high rate and it is probably as high as any other body of water in the state. In order to achieve this high reproduction, they must have sufficient numbers of mature adult spawners.
Joseph Leonardi will be investigating the data more thoroughly this winter. Given the number of YOY fish captured, and if winter survival of these fish is good, he believes there will be an abundance of 13 – 15 inch walleye in the fishery next spring and summer.
Holloway Reservoir fishing report for July 2013, by Jim Key
Fishing in June was good. Fishing is slow in July because the water has warmed up. The fish, particularly the walleye, go deeper when the hot weather begins. The best fishing is where the river runs through the reservoir.