IN THE NEWS
Dive team recovers car ditched in Reservoir
The dive team from the Lapeer County Sheriff's Dept. pulled this older model Pontiac Grand Prix from the Holloway Reservoir on Saturday, July 1. Photos provided RICHFIELD TWP. — The Lapeer County Sheriff's Dept. dive team recovered a vehicle Saturday that had been ditched in the Holloway Reservoir.
Undersheriff Jeremy Howe said that Lapeer County Central Dispatch received a call at about 12:30 on Saturday, July 1, from a citizen using a sonar device while fishing.
As he passed the Walleye Pike Boat Launch in Richfield Township, the fisherman told police he noticed what appeared to be a vehicle in about 20 feet of water.
Officers soon determined the car was in part of the 2,000-acre body of water that is in Genesee County.
However, the Genesee County dive team could not assemble enough staff to respond due to the holiday weekend. As a result, the Lapeer team handled the call.
Howe said divers went down about 20 feet to get a cable around the axle of the vehicle that turned out to be an older model Pontiac Grand Prix that had been there for an extended period of time.
The car was treated as evidence until it was confirmed there were no bodies inside.
Howe said police investigated and determined the car to be connected to an insurance fraud case out of Vienna Township in Genesee County. — Andrew Dietderich
Article as printed in The Davison Index July 13, 2017
By STEVE OSUNSAMI, MICHAEL DEL MORO and DAISHA RILEY
Carmen Johnson, 15, was a high school cheerleader who enjoyed life, got good grades and loved to be on the water.
It was a terrible accident on the water that took Carmen's life on April 16, and her parents, Jimmy and Casey, are warning others about the potential dangers.
The Johnsons say Carmen, their youngest child, was electrocuted while swimming in the lake behind their home. Her parents told ABC News that the electrical currents came from rusty electrical work at the dock in their backyard.
It's called electric shock drowning — when a current, usually from a short circuit in the wiring of a dock, marina or boat, spreads through the water, and someone in the water is shocked and drowns.
Carmen's father, Jimmy Johnson, said he initially thought something was pulling Carmen down into the water.
"I was in a position where I could have saved her if it would have been anything but electrocution in the water," her father said.
In fact, Jimmy and his son, Zach, both jumped into the lake to try and save Carmen. They were nearly killed themselves.
"It was instant. It just grabbed hold of me," Jimmy Johnson said of the electric shock.
Zach said, "It felt like your arm or leg is asleep and it hurts to move, and you can't move, but it's your entire body. And you're trying to tread water but can't swim."
The two were saved when Casey Johnson ran and turned off the power switch. A friend who had been in the water with Carmen was also injured but she survived.
In Missouri in 2012, Alexandra Anderson, 13, and her 8-year-old brother, Brayden, died while swimming near their family's dock. Their mother has been lobbying state lawmakers to make docks safer.
Several states are now calling for circuit breakers near the water, and for the kinds of electrical outlets there that can be found in most bathrooms — the ones that shut down when there's an overload or short circuit.
To keep your family safe, experts say you should inspect the electrical equipment at pools, docks, boats and marinas at least once a year. It's also a good idea to get a shock alarm or other similar product to warn people when there's electricity in the water, experts say.
The Electric Shock Drowning Prevention Association, a group that calls for better safety standards, has counted 25 of these electrocutions across the country in the past five years.
The Johnsons say local laws never required them to have the faulty electric line inspected. In their daughter's name, they want that to change.
"There are probably a lot of drownings that happen that could be from this that people don't know," Casey Johnson said.
The Flint:  A good river with a bad reputation
As written in:  www.mott.org/news/news/2015/20151202-Flint-River-Article
December 02, 2015
Biologist Joseph Leonardi has a message for people who believe the Flint River caused the lead contamination problem in Flint's drinking water: It wasn't the river's fault.
Leonardi, a Michigan Department of Natural Resources fisheries biologist, has studied the Flint River for more than two decades and knows it as well as anyone. He also understands the science behind Flint's drinking water crisis, which erupted after the city switched its source of drinking water from Lake Huron to the Flint River.
"The issue with the (lead in Flint's) drinking water stemmed from the Flint River having natural differences in chemistry compared to water from Lake Huron," Leonardi said. "The river water itself was not to blame."
The Flint River contains chlorides (some of which likely come from road salt), but the water does not pose direct threats to fish, wildlife or people who use the river. Chlorides cause problems in drinking water mainly because they corrode metal in the pipes and plumbing fixtures that transport water into homes.
Flint's recent drinking water problems increased concerns about water quality in the river, but research shows the waterway is improving.
"Overall, the health of the river is fair to good — it is vastly improved from the 1950s and '60s," Leonardi said. "There are some fairly pristine tributaries in the headwater reaches, but there are also some areas of degradation and concern."
Fish and wildlife populations are rebounding in and along the river, according to government data. And bald eagles, which nest only near healthy waterways, now reside at several sites along the river.
The river supports an excellent smallmouth bass fishery on the outskirts of Flint, and improved water quality played a major role in the resurgence of the walleye fishery in Saginaw Bay. The Flint is a major tributary of the Saginaw River, which flows into Saginaw Bay.
Each spring, as many as 100,000 walleye from Saginaw Bay migrate up the Flint River to spawn in a scenic stretch of river that winds through the city of Flushing. The annual migration has given rise to Flushing's annual Walleye Festival.
"The river is holding its own — maybe not improving as much or as fast as some would like, but I think we have seen some noticeable improvement in the fish community," Leonardi said. "My hopes are for continued improvement as communities embrace the river for the asset it is."
Although the river is improving, it faces ongoing challenges from contaminated storm water runoff and past pollution. Storm water runoff is the most serious problem facing the river, according to government officials and river advocates.
Polluted storm water that drains off the landscape harms water quality and aquatic life. It also alters the natural flow of the river, which can cause a myriad of problems, such as flooding and streambank erosion. This issue is not unique to the Flint River — storm water runoff is the biggest threat to rivers nationwide, according to the U.S. Environmental Protection Agency.
Environment Program Officer Jumana Vasi
Read a related interview with Environment Program Officer Jumana Vasi.
Despite those challenges, the river is a tremendous resource that offers an "Up North" experience just minutes from downtown Flint. It flows through three lakes in Genesee County and, in some areas, winds through miles of pristine woods that are devoid of houses, cars or other signs of modern society.
Leonardi, who has canoed much of the 142-mile long Flint River, calls it "an undiscovered treasure."
The river's recovery is the latest chapter in a story that dates back thousands of years.
Etched into the landscape by the same glaciers that carved the Great Lakes about 10,000 years ago, the river has been the lifeblood of Flint. It was a source of food, water and transportation for Native Americans who first settled the area. Following the arrival of European immigrants, the river supported a thriving fur trade in the 1700s, carried millions of logs to saw mills in the 1800s, and fueled the rise of the automobile industry in the early 1900s.
The river will play a key role in 21st century efforts to revitalize downtown Flint, said Rebecca Fedewa, executive director of the Flint River Watershed Coalition.
"We have a beautiful vision for the river in downtown Flint. We are working with a wide variety of stakeholders to remove the two dams in downtown Flint and naturalize the river banks," Fedewa said. "When we are done, people will be able to fish and kayak up and down the river in downtown Flint."
Many other Michigan cities, large and small, have made rivers the focal point of downtowns. Leonardi said he hopes communities along the Flint River afford it similar treatment.
"For most people, I think simply the aesthetic value of a river is its greatest attribute," he said. "Whether it is the sound of moving water or watching the water flow, it gives people a sense of being and an opportunity to perhaps forget the hustle and bustle of the world around them — even if it's just for a quick moment."
– See more at: http://www.mott.org/news/news/2015/20151202-Flint-River-Article#sthash.PE1VvS1I.dpuf
Truck submerged underwater after sliding backwards into Holloway Reservoir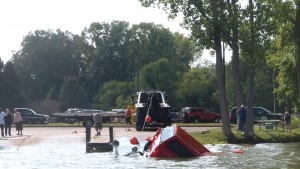 By Roberto Acosta on September 07, 2015 at 2:30 PM, updated September 07, 2015 at 10:31 PM
GENESEE COUNTY, MI — A man was uninjured after his Chevy Silverado rolled back into the water Sunday, Sept. 6, at the Walleye Pike boat launch at the Holloway Reservoir in Richfield Township.
Genesee County Parks Ranger Kevin Shanlian said the incident took place around 2:40 p.m., when the vehicle's owner backed up to load a boat. The truck slid back and became fully submerged.
Gray's Towing was called to help remove the vehicle, Shanlian said. The driver will be responsible for the cost of the tow truck. The fire department was not called, because it was determined no leaks came from the vehicle that would have necessitated a hazardous materials response.
Willy Lucero was ready to unload his boat when he saw the truck going down in the water.
"It was pretty crazy," said Lucero, noting several people filmed the incident from the shore and the water. "I was told by somebody there the guy tried to pull out, and it just slid back into the water."
Having launched from the same spot, Lucero said, "That ramp gets really slippery," with a buildup of algae from time to time.
He called it the steepest launch out of a cluster in the area around the reservoir.
Lucero and Shanlian noted it took a while to remove the vehicle, with the call finally cleared about 5:30 p.m. Sunday.
Shanlian suggested anyone who is launching or lowering a boat into the water to have a spotter assist in the move, with one person directing the driver.
This is not the first vehicle that has been submerged around Genesee County in 2015.
A man was able to climb out of a window on his 2011 Chevy Silverado on Feb. 8 after the truck went under patchy ice atop Lobdell Lake in Argentine Township.
A March 18 incident resulted in a 2007 Chevy Trailblazer driven by an intoxicated man plunging into the Flint River in Flushing.
Less than a week later, on March 22, a 59-year-old woman found herself being rescued after her vehicle also went into the Flint River in Flushing.
Mayfield Twp. man drowns in Holloway Reservoir
Lapeer County Sgt. Harry Lutz talks to Deputy Jeremy Herfert, a rescue diver, and Marine Patrol Deputies Adam Kuhn and Jim Murphy as they return to a private dock onMichael Drive after searching for Clarence Reynolds. The 56-year-old Mayfield Township man drowned after diving off his jet boat (right) Saturday evening.OREGON TWP. — An afternoon on the water Saturday with a friend ended in death for a Mayfield Township man.
The body of Clarence Reynolds, 56, was found in 5 to 6 feet of murky water not far from where he dove off his Seadoo Sportster jet boat about 5:30 p.m. Saturday in the Holloway Reservoir.
Reynolds' companion called Central Dispatch about 5:30 p.m. to report the Burton businessman had dove headfirst into the reservoir about 200 yards downstream from the Mt. Morris Roadbridge and never surfaced. Lapeer County Sheriff's Dept. Sgt. Harry Lutz said Reynolds' boat was in 4 to 5 feet of water when the fatal mishap took place.
Deputy Craig Cummings, who lives nearby, was one of the first deputies on scene with his personal boat. He said high iron content in the 1,975-acre reservoir, which is fed by the Flint River, severely limits visibility.
Reynolds' boat was returned to the Walleye Pike Boat Launch north of Davison, where he'd put in before motoring up the Mt. Morris Road bridge.
A Lapeer County Marine Patrol Division boat was already patrolling the lake. Eventually five Lapeer County Sheriff's Dept. divers and five more from the Columbiaville Fire Dept.combed the bottom of the lake, looking for Reynolds.
Searchers found Reynolds body south and west of where he dove off his boat about 100 feet from shore about two-and-a-quarter hours after he was reported missing.
Det./Sgt. Jason Parks said, "The official cause of death is drowning," adding alcohol is believed to have been a factor.
A Lapeer native, Reynolds owned American RV Inc. in Burton for 30 years.
Funeral services were planned for Reynolds Wednesday at Muir Brothers Funeral Home in Lapeer, with Pastor Grant Lobb officiating. Burial followed at Deerfield Township Cemetery.
The Holloway Reservoir, according to Michigan- Fishing.org, is the largest impoundment in southern Michigan. Genessee County Parks maintains the 5,500- acre Holloway Reservoir Regional Park on the reservoir's shores.
Lapeer County man drowns in Holloway Reservoir
LAPEER COUNTY, MI – A 57-year-old Lapeer County man was found dead in the Holloway Reservoir Saturday, Aug. 2, after jumping out of a boat.
The Lapeer County Sheriff's Department said the man was on a boat with his wife when he jumped into the water and never resurfaced.
Columbiaville firefighters along with officers from the Lapeer and Genesee county sheriff departments and the Michigan State Police responded to the reported drowning along Sandy Lane in Columbiaville at around 5:30 p.m.
The man was found dead around 7:45 p.m. after divers spent two hours searching the east end of the reservoir, the area the man jumped into the lake.
The man's name has not been released and the death remains under investigation.